17 Behind-the-Scenes Secrets of Funeral Directors
Despite the fact that almost everyone will need the services of the "dismal trade" at some point in their lives, the specific job duties of funeral directors often remain shrouded in mystery. Mental Floss talked to several to learn some little-known facts about the profession, from what happens behind the doors of the embalming room to the real reason you might want to think twice about that "protective" casket.
1. THEY DRIVE MINIVANS.
"The reason you don't see the dead being picked up in your daily life is because we're stealth like that," Jeff Jorgenson of Elemental Cremation & Burial in Seattle tells Mental Floss. "We are soccer moms and we are legion! Actually, we just use soccer-mom vehicles: Minivans are the transportation of the dead. We rarely drive hearses—those are ceremonial vehicles only."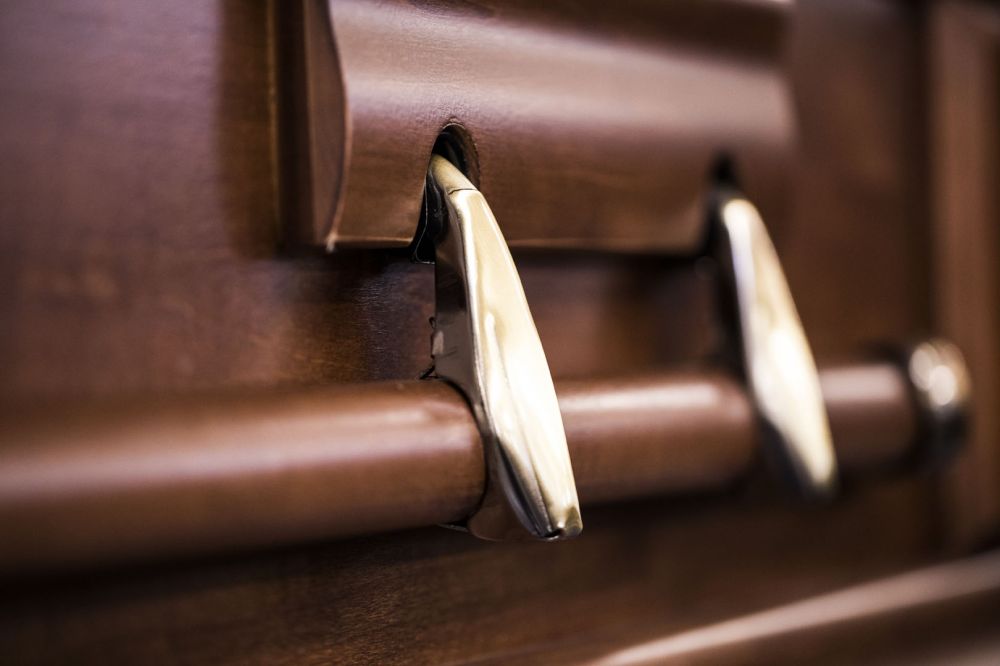 2. THAT SWEET LOOK ON THE DECEASED'S FACE TOOK SOME WORK.
Funeral directors say that the most important part of preparing a body for a viewing is the "setting of the features"—creating a peaceful facial expression with a pleasant smile. But while it might look nice at the end, the work creating that appearance can be grisly. Morticians stuff the throat and nose with cotton and then suture the mouth shut, either using a curved needle and thread to stitch between the jawbone and nasal cavity or using a needle injector machine to accomplish a similar job more quickly. Small spiked cups are also inserted under the eyelids to keep the lids closed and the eyes from caving in.
Of course, some bodies take more restoration than others. One mortician says that to prepare a decapitated corpse for an open-casket viewing, he uses a wooden dowel to rejoin the head and body, then sutures the neck back together.
3. THEY MIGHT MAKE A TRIP TO THE DRUGSTORE.
In her best-selling book Smoke Gets In Your Eyes, mortician Caitlin Doughty says: "If the usual methods of setting the features aren't sufficient to keep the eyes closed or the mouth shut, superglue is a secret weapon." In Grave Matters, author Mark Harris points out that superglue can also be used to close up any puncture marks from needles on a corpse. Brooklyn funeral director Amy Cunningham of Fitting Tribute Funeral Services tells Mental Floss: "If you need to keep a deceased person's hands folded neatly at their abdomen, but their arms keep falling down into the sides of the casket, you can gently bind their thumbs with a ponytail tie."
4. COMPARISON SHOPPING IS KEY.
Sixth-generation funeral director Caleb Wilde, known for his popular blog Confessions of a Funeral Director, shares this story with us: "About a year ago, a husband and wife died about four months apart. The wife knew us, so we buried her, and the husband knew the funeral home in a neighboring town, so they buried him. They both had the same funeral, same casket, vault, etc. The family called us to let us know that the other funeral home charged $3000 more. Same value, different cost. Call around to different funeral homes. Shop. Ask for the GPL [General Price List]. Remember, cost doesn't always equal value."
5. YOU MIGHT WANT TO THINK TWICE ABOUT "PROTECTIVE" CASKETS.
Some caskets that have vacuum-seal rubber gaskets are marketed as "protective" or resistant to the "entry of outside elements." As Harris details in Grave Matters, this creates conditions that encourage the growth of anaerobic bacteria, which break the body down by putrefying it, "turning soft body parts to mush and bloating the corpse with foul-smelling gas … Inside the sealed casket, the result is a funereal version of the decay that's found in swamp bottoms and the bowels of unturned compost piles."
6. SOMETIMES CASKETS EXPLODE.
In fact, the aforementioned buildup of methane gas can cause what people in the industry call "exploding casket syndrome," where the gas will literally blow the lids off of caskets and doors off of crypts. Some casket makers have added Tupperware-style "burping" features to their sealer models to release the accumulated gases. Harris spoke with a former cemetery owner who told him that those "protective" sealer caskets are "routinely unsealed after the family leaves … to relieve the inevitable buildup of gases within the casket." Staff may also just leave the caskets unlocked, not engaging the seal to begin with, in an attempt to avoid those "fetid conditions inside the casket."
7. SOMETIMES PACEMAKERS EXPLODE, TOO.
If a pacemaker is left in a body when cremated, "it can explode and can cause upward of $10,000 of damage to the retort [cremation machine]," Wilde says. "So, pacemakers need to be removed before cremation. And don't worry, the funeral directors/cremationists will do the removal for you."
8. SOME FUNERAL DIRECTORS RARELY SEE THE DEAD.
Jorgenson says, "The bulk of what funeral directors do is paper-pushing—filing death certificates, getting permits, editing obituaries, and sending them to the paper. [Some] will only see a dead person when they are delivered for a service. In the case of some funeral homes, a [corporate] funeral director could literally go years without seeing a dead person."
9. THEY SEE THINGS THROUGH ROSE-COLORED LIGHT BULBS.
While the formaldehyde embalmers use does contain a rosy dye to restore color to graying, lifeless flesh, it's not always sufficient. According to Cunningham, "mortuary schools teach color theory and stage lighting—how to use colored gels over the ceiling lights." Doughty also mentions that bodies are often set out for visitation displayed under rose-colored light bulbs.
10. IT ALL GOES RIGHT DOWN THE DRAIN.
You'd think all the chemicals and body fluids involved in embalming would be disposed of like biohazard, but it's industry practice to just wash it all off the table, right into the drain. Harris points out that just one embalming can generate 120 gallons of "funeral waste"—blood, fecal matter, and the former contents of internal organs, in addition to any chemicals in the preservation fluid itself—and it all ends up in the public sewer system, to be eventually released into waterways. Although, as Wilde points out, "Blood isn't any worse than the other things that go down the loo."
11. FORMALDEHYDE MIGHT BE DYING A SLOW DEATH.
Despite the fact that almost everyone will need the services of the "dismal trade" at some point in their lives, the specific job duties of funeral directors often remain shrouded in mystery. Mental Floss talked to several to learn some little-known facts about the profession, from what happens behind the doors of the embalming room to the real reason you might want to think twice about that "protective" casket.
In addition to causing relatively minor problems, such as sinus issues and rashes (including one called "embalmer's eczema"), formaldehyde is a carcinogen. The U.S. National Toxicology Program, among other groups, has said that people with high levels of exposure—such as embalmers—are at a higher risk for nasopharyngeal cancer, myeloid leukemia, and other forms of cancer.
Usually, criticism comes from outside the death-care industry, but that's starting to change. In the May 2016 issue of The Director, the official publication of the National Funeral Directors Association, Carol Lynn Green, the NFDA's environmental-compliance counsel, writes, "there is no dispute that formaldehyde poses a health risk." She says that the Occupational Safety and Health Administration is gearing up to make their workplace regulations stricter, and recommends that funeral homes start to transition to preservation products that don't use the dangerous gas.
12. YOU CAN'T REALLY BE BURIED UNDER A TREE.
Some consumers who dislike the idea of embalming, or have environmental concerns, choose a "green" burial. Alongside that often comes a romantic idea about being buried beneath a favorite tree—perhaps a stately oak, for example. Sarah Wambold, an Austin funeral director and green burial expert, tells Mental Floss: "A body must be buried at least four feet from a tree to protect its root system. It's a bit of an adjustment for people who are committed to the image of being buried under a tree, but that's not always the most green option for the tree. Wouldn't they rather allow the tree to continue to live?" You can, however, plant new trees or shrubs atop a grave after a burial, and the roots will grow down over the body.
13. AT LEAST ONE FUNERAL DIRECTOR WANTS TO TEACH YOU TO PREPARE DEAD BODIES YOURSELF.
Doughty, who runs a funeral home called Undertaking LA, told WIRED, "I'm a licensed mortician, but I want to teach people that they don't need me." She advocates people learning to take care of their own dead at home, and says she wants the public to become comfortable with the way death looks naturally: "A chemically preserved body looks like a wax replica of a person. Bodies are supposed to be drooping and turning very pale and sinking in while decomposing. Within a day or so after they've died, you should be able to see that this person has very much left the building. That's the point. I think dead bodies should look dead. It helps with the grieving process."
Doughty encourages the idea of home funerals, which are legal in all 50 states (although 10 states require the involvement of a funeral director). For more information, check out the Home Funeral Alliance.
14. IT'S HARD TO BE THEIR FRIEND.
Any friend might disappoint you once in a while, but funeral directors will probably do it more often, according to Wilde. "We might miss your birthday party; we might have to leave in the middle of dinner. Death has this way of keeping an untimely schedule, and as death's minions, we're tied to that schedule. Whether it be in the middle of the night, or in the middle of your wedding, when death calls, we have to respond."
15. NO ONE WANTS TO PROFIT FROM THE DEATHS OF CHILDREN.
"It is a tradition in the funeral industry to provide funerals to the families of stillborn babies and very young infants at cost," Cunningham says. "Funeral directors do not care to make a profit on the deaths of children, and in fact, the death of a young child saddens the whole firm more than almost anything else."
The funeral industry also includes a number of charitable projects devoted to helping parents after a child's death. A volunteer group called Little Angel Gowns makes burial garments for babies out of donated wedding dresses, and provides them at no cost to hospitals and funeral homes. The Tears Foundation assists grieving parents in paying for burial or cremation expenses after losing a baby. Eloise Woods, a natural burial ground in Texas, will bury infants at no charge.
16. YOUR GRANDFATHER'S HIP JOINT MIGHT BECOME A NEW ROAD SIGN.
According to Doughty, families can ask for replacement medical parts back after a cremation, but most do not. Hip and knee implants are often melted down and recycled for road signs and car parts, among other things. Unfortunately, she says, breast implants usually melt all over the cremation machine.
17. SOME FUNERAL HOMES EMPLOY THERAPY DOGS.
A large part of a funeral director's job is comforting the bereaved. Some use grief-therapy dogs to give the families a furry shoulder to cry on. For one example, check out Lulu the golden doodle.
http://mentalfloss.com/article/80944/17-behind-scenes-secrets-funeral-directors